Patient Assistance and Specialty Medications
Patient Assistance and Specialty Prescriptions
Have you recently been prescribed a high cost specialty medication for a condition like cancer, Hepatitis C, HIV or an autoimmune disease? We understand how expensive and complicated it can be to start on these drugs. We know that besides costs these drugs can be difficult to find and can have special shipping and storage conditions. They can also be more complicated to take and have greater potential for side effects.
As a specialty pharmacy, our staff of pharmacists, reimbursement specialists and other allied health professionals can provide you with the supports you need. This includes helping to determine insurance coverage, minimizing your out of pocket costs, counselling on the medications and their potential to interact with other medications you might be on, managing side effects, therapy initiation and maintenance, as well as physical drug delivery.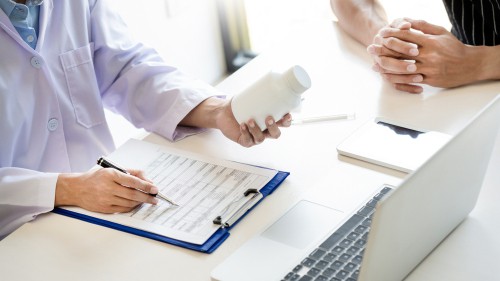 Our specialty services take a whole treatment approach, recognizing that therapy is only successful when the patient:
is engaged in their therapy
can afford the medication
is appropriately counselled on the medication, potential drug-drug interactions, and possible side effects
is counselled on side effect management
is provided with adherence tools and strategies
feels supported in their ongoing therapy
Our pharmacists have extensive experience with specialty medications and deploy case management processes to provide your patient with the supports they need to successfully initiate and maintain therapy. We help patients to successfully navigate coverage, and to initiate and maintain therapy through the development of a customized treatment plan. We provide counselling supports and treatment optimization to minimize costs. We can develop custom adherence programs for your patients.
Our reimbursement team provides expertise in navigating coverage for the cost of drugs for your patients. We will explore all possible avenues to minimize the cost of their medications, including investigating eligibility for both private and public programs, as well as for patient support programs.